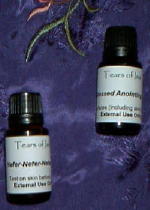 Tears of Isis is proud to present handmade special perfume oil blends in jojoba oil, made from organic and cruelty-free ingredients. Apply as a perfume to pulse points. The main notes of each perfume are listed below (but not limited to those described!). Each bottle contains one half-ounce of perfumed oil. Not for internal consumption.


Cleopatra- $10.00
A traditional blend the great Queen favored: including lotus, cassia, and cedar. Suitable for the wife of any divine King!

Ramses - $10.00
Dense, sweet, and woody, with just a whisper of cassia, this mighty scent conquers all.

Wosret - $10.00
A whisper of tea leaves with heavy Oriental fragrance, alongside notes of honey and vanilla.

Tetisheri - $10.00
Very soft rose scent, mingled with citrus and other florals.

Desert Lord - $10.00
Cassia backs up a dense vanilla flavor, also with aromatic wood and other notes reminiscent of a passing spice merchant's caravan.

Hidden Lord - $10.00
As sweet as Amun-Ra, the Hidden Lord, and as secret as He is!

Lord of Iron - $10.00
Made in honor of Horus (Heru), this perfume oil combines thick orange and clove, mingling with apple and cassia.

Great of Magic - $10.00
Thick Oriental florals whisper alongside the freshness of cypress and juniper.