Handmade Sacred Oils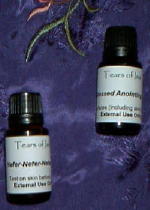 The divine oils of Ancient Egypt are made in a base of fractionated coconut oil and/or jojoba oil -- and all have shelf-lives of several years. Each is hand-made in a sterile environment to ensure their purity remains intact. All oils are made with the highest quality ingredients.
Magical Purpose Oils
Half-ounce oil blends, blessed and custom made for the individual. No two people get the same oil!

Traditional Kemetic Anointing Oil - $15.00
Although officially used to sanctify amulets and images in Kemetic Orthodoxy, this anointing oil may be used by anyone. Blessed by Hekatawy, the Kemetic Orthodox Nisut, this oil is made with the purest ingredients sacred to the ancient Egyptians.
Home | Spiritual Waters | Sekhmet Baths
Bath Salts and Natrons | Sacred Oils | Flower Essences | Perfume Oils
Kemetic Orthodox Worship Supplies
This site and all contents copyright © 2001-2014, Tears of Isis. Designed by Stargazer Design.
Reproduction without permission is prohibited. (You don't really want all these spirits mad at you, do you?)